A horrific fictional encounter with a serial killer. Patrick Bateman, a wealthy Wall Street bachelor, roaming the streets of New York City. Reader beware.
Genre: Transgressive Fiction/Horror
Read it if: You want to have terrible nightmares and irreparable emotional trauma about men, women, puppies, and New York City as a whole. The images haunted me for days. Easton really dives into what this particular serial killer wants, some of which were actually highlighted on Psychology Today: "Understanding What Drives Serial Killers" – a great read, if you're interested.
Breakdown: New York during the '80s and revolves around Patrick Bateman. He's a wealthy investment banker on Wall Street who frequently does drugs, booze, and women when he's not killing them. The scary thing is that within his friend's circle, he's a saint. He seems to suffer from a personality disorder and is a horrible addition to Ellis's fictitious society.
Is it funny: Nope! The details are so vivid, especially when Bateman kills people, pets, etc. It's too much gore for my taste.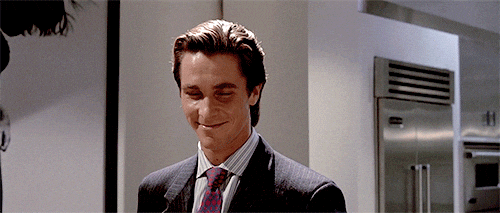 The cover: He's totally my type. Seductive, charming, emotionless -kidding. I also watched the movie "American Psycho" starring Christian Bale. Both the film and the book were disturbing. The cover says it all. It's all about one guy who's an American, Psycho.
Do I recommend it: I started reading this book in Germany and jet-lagged like no other. Honestly, the only book I had that wasn't self-help, and I was trying to get out of my norm—big mistake. I would begrudgingly recommend it because of how clear Ellis narrates the story, but I wouldn't be sad if you didn't read it. His writing is seamless, and every character is carefully described, even (sadly) the murderous, homophobic, and racist interactions that take place. This was painful to swallow. But I think it's essential to read controversy, to better understand what it's capable of. I appreciate writers that take their time to cleverly explain small details that add to a reader's imagination, be it good or bad, and Ellis does this.
Rating: 3 Stars ⭐️⭐️⭐️